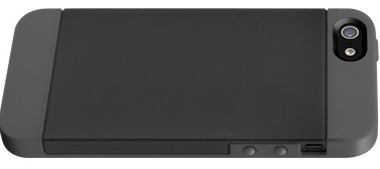 Design matches that of the iconic iPhone 5.
So I decided to pick up this case and give it a review for you guys. The amount of cases available for the iPhone 5 is starting to go up and it is hard to pick the one for you. Here is a link to some of the best:
iPhone 5 Cover
You can probably guess why I chose this case...I just love the two-tone design and how it matches my black iPhone 5. The case comes in a multitude of colours but I felt that the black best matched my iPhone.
Lets start off with packaging. I was very impressed with the packaging of the case, it was displayed very nicely in minimal plastic and all the great features were cleanly outlined on the outside. Once into the case all the accessories such as the screen protectors and microfibre cloth etc were nearly packed into a cardboard inlay in the case.
So, I mentioned accessories, and for a case, the Switcheasy Tones comes with everything you could wish for. Most cases these days come with screen protectors but this comes with two front and one for the back! Nice! Also included is your generic microfibre cloth and card applicator. Something that did catch me by surprise is the lightning and headphone protectors. Little rubber nubs you insert to keep dust and dirt out of those important ports.
So finally onto the case itself. The main selling point of this case is the two tone design which doesn't disappoint. The top and bottom sections are made of a flexible rubber TPU material and the middle section is made from a harder plastic. All buttons are covered adequately and the case does feature a lay on the table design, as well as a black rim around the camera to prevent flashback. Overall I do like the case but it is still early days. Switcheasy state this is a non scratch material but I am not convinced as I can see the back plate coming under fire when put in my pocket. Also the plastic back does feel a little cheap and also makes the phone very slippery.
Bottomline: Definatly give this case a go. A reputable brand and a nice change from the likes of the candyshell. The Tones gives you some really good protection for just about anything you throw at it.
You can pick up the case here:
iPhone 5 Cover