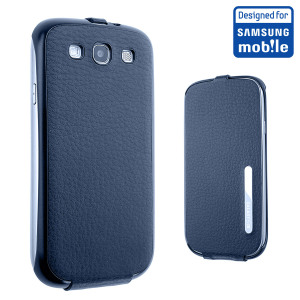 So you may have seen my recent article featuring my top 5 HTC One cases, in which I spoke about the benefits of having cases designed by the same manufacturer as the phone. Well it's the same in this instance with Samsung and the S3. The
Samsung Galaxy S3 Flip Case
gives the phone excellent protection whilst giving it a premium feel with the leather style finish. It features a slim and padded design with a really convenient fasten clip on the top, something that is not featured with other flip style cases.
Lets break down each aspect of the case to get a true representation of the case.
Pros
The design of the case is very high quality with the color matching that exactly of the blue S3. Cutouts all around the case make for easy access to all ports and buttons. The high quality leather style finish is bolstered by a silver inlay on the front of the case features Samsung Galaxy S3 branding. The clip fastener allows the case to stay closed unlike the Samsung flip cover.
Cons
Although the clip fastener is a welcomed feature, maybe the use of a magnetic closing system would be more functional for the user. Another seemingly obvious design flaw is that the phone cannot be charged whilst the case is closed, as it interferes with the hinge so must be opened to charge. Finally, the outer edge of the case is made from a brittle plastic so is prone to cracking when dropped (although your phone is probably intact).
Bottomline
The case ticks a lot of boxes all round with a great feel in the hand and when it manages to slip out of it too. This does come at a premium and you may notice that the official Samsung products are more expensive than others but when it comes to phone cases you really do get what you pay for. I am going to give this 9/10 and would recommend this to anyone trying to protect their S3 whilst keeping it slim and stylish. It is a definite upgrade over the standard flip cover.