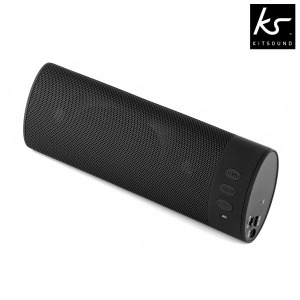 The Xperia Tablet Z has recently launched and you probably want some
Xperia Tablet Z accessories
. Bluetooth speakers are a very efficient way of getting some great wireless audio from a mobile device, and in the case of the Kitsound Boombar a very inexpensive one too.
The Kitsound Boombar has many premium features despite such a low price point, for example the rechargeable battery is a really handy feature, a travel case to protect it, as well as the built in volume and song skip/play/pause buttons. The bluetooth speaker is not going to rival any of the big guns like the Beats Pill or Bose Soundlink, but does a really good job of producing loud music in its price category.
In terms of the interface, the Boombar features a simple pairing sequence, something that is readily welcomed, along with an easy power switch, and AUX connection for non bluetooth devices and some audio control buttons. The audio control buttons come in handy to quickly skip track or alter the sound volume, and the Boombar also comes with a built in mic so when bluetooth is connected the speaker can be used as a handsfree for calls!
In terms of audio quality it isn't the best but I don't see this as a drawback because nobody is expecting professional quality audio from a £20 speaker. It does a very good job of amplifying the iPhone music to a level that would be great for outdoors. A good way to think of it, is the sound quality you would expect from a high end smartphone, but to a much higher volume. The sound quality lacks bass and does sound a bit tinny at times but this is probably because I am used to using a similar speaker that is fifteen times the cost of this one.
All in all, this would be a great speaker to take outside, for example the beach when you want a bit of background music that everyone can hear but are not too bothered about the sound quality. It features some nice build quality and extras and really makes you feel like you got a good bargain.